Industry solutions
Specialised demands require specialised solutions – including security!
Door, window and safety concepts in office buildings are developed to handle sometimes conflicting requirements. In addition, there is great demand for aesthetically appealing solutions. GEZE solutions combine standardised technology with specialised needs.
Impressive and functional entrance area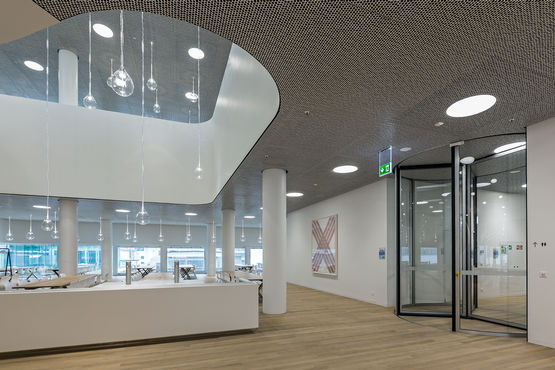 Optimal use of daylight: restaurant entrance
The entrance area to an office complex generally needs to be impressive and inspiring, but also inviting. Classic requirements need to be met, such as accessible door comfort, access control, burglar resistance, emergency exit protection and reliable smoke removal in case of a fire, plus remote operation and monitoring. GEZE solutions help in many ways.
Fully automatic revolving door systems by GEZE are an optimal solution to reliably and safely handle heavy volumes of traffic where people come and go all day. Large 3-leaf glass designs were installed in the Roche Tower in Basel, for instance, with a passage clearance and width of three metres. The revolving doors integrate perfectly into the purist interior architecture, underscoring the inviting atmosphere of the building. Thanks to maximum transparency, they make full use of daylight from the clear stairwells, each of which connects several storeys. If a revolving door is unable to fulfil demands in terms of accessibility and emergency exit protection, GEZE swing door solutions may be a better option.
This example also shows how GEZE can address specific needs: GEZE has created all the conditions for an individual lighting solution to be integrated into the door constructions. The revolving doors in the Roche Tower were developed and manufactured in GEZE's own factory for project-specific solutions.
Multifunctional doors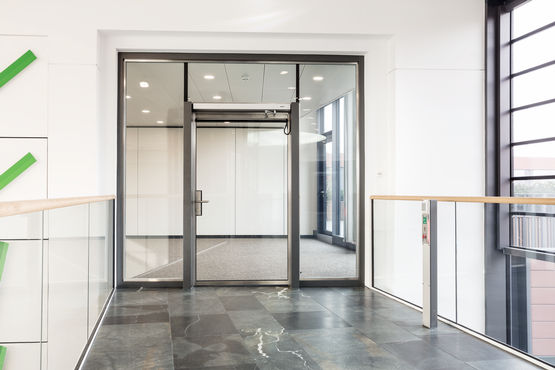 Complex door technology, fine-framed and centrally controllable © Jürgen Pollak / GEZE GmbH
Doors are a core element in ensuring access for all, preventive fire protection, emergency exit protection, and in access control systems. They can often be subject to opposing demands, all of which must be met. GEZE has developed door solutions for office buildings that meet precisely these demands, for instance at the Vector company headquarters in Stuttgart:
on the second floor, a multifunctional safety door regulates access authorisations so that employees can enter and leave the facility at specified times. It also serves as fire section door and accessible escape route door. All door functions can be centrally monitored via the building management system, saving building managers from travelling long distances. We were able to implement the sleek door design using technology that takes up minimal space: the Powerturn, for example, is only seven centimetres tall. To visually emphasise the door status, a back light LED display has also been selected for the stainless steel TZ 320 designer door control unit.
To sum up: a door that can not only do a lot, but that also fits into the company headquarter's design concept.
Go to the GEZE Vector company headquarters in Stuttgart case study
Room division with partition systems
The GEZE Pendulo System © Jochen Stüber / GEZE GmbH
Rooms without visual restrictions – glass partition systems can be used to spatially separate floors or parts of floors, without losing light and transparency. The Pendulo all-glass wall system by GEZE allows you to create many different elegant solutions. The walls can be used in office planning to create individual rooms or even divide a large area into smaller rooms to provide additional structure. What is special about it: the GEZE system conceals the intelligent technology - an integrated door closer - in the lower designer profile. This means that the door can be opened in both directions, it offers a balanced closing movement and it swings gently back to its rest position.
The planning of the GEZE all-glass wall system is also straightforward: the online Pendulo configuration allows complete solutions to be designed quickly and easily from a single source, tailored to your individual wishes.
Reliable control at all times through security interlocking door systems
Glazed automatic doors with access control
Access control plays a role in every office building. Different groups of people have different authorisations, such as employees, public users, suppliers, or cleaning personnel. In addition, visitors sometimes need to be admitted to the building one at a time, either to ensure building security or hand over sensitive materials. But it's important never to lose sight of comfort – visitors should never feel like they're being processed, but should instead have a sense of security.
GEZE solutions meet these demands at the Gelsenkirchen Judiciary Centre: Powerturn drives are combined with Slimdrive swing door systems as access to the atrium. An access control system restricts entrance to one of the interlocking door systems to members of the court. Two further control systems serve as a separator to manage all other groups of individuals. The fourth interlocking door system serves as an exit, preventing uncontrolled access to the atrium. The exterior security interlocking door does not open until the interior door is closed. The automatic opening and closing comfort offered by Slimdrive EMD-F swing door systems allows users to enter and leave the security interlocking door system more quickly, increasing the efficiency of identity screening by the security staff. This security solution is a good choice for narrow door frames and cramped areas, as is common with interlocking door systems.
Our expertise in banks
The entrance area to Deutsche Bank in Stuttgart © Nikolaus Grünwald / GEZE GmbH
Performance, reliability, competence, flexibility, discretion, safety and comfort are the attributes associated with a bank. Modern architecture translates these traditional values into a pleasant atmosphere that combines discretion and transparency, which is why bank foyers and customer areas increasingly resemble attractive hotel lobbies or airport lounges.
Building security plays an important role in buildings where large numbers of people congregate or enter and leave – and not just because of legal requirements. Door and window security is crucial when it comes to fire prevention, emergency exit control and, particularly in a bank, protection against theft, burglary and access control. To achieve each of these objectives, GEZE offers individual solutions and solution concepts that combine separate security demands in a single intelligent system.
GEZE has made a name for itself the world over with its innovative strength and expertise in solution design, and has provided equipment for bank buildings in many different countries. GEZE offers a wide range of door, window and safety technology and building automation from a single source. GEZE products fulfil all legal requirements and guidelines.
Contact
GEZE Zentrale +49-7152-203-0 Mo – Do: 7.30 – 17.00 Uhr / Fr: 7.30 – 16.00 Uhr
Architektenhotline +49-7152-203-112 Mo – Do: 9.00- 16.00 Uhr / Fr: 9.00 – 15.00 Uhr