Topics
Access for all - greater comfort and quality of life for everyone
Passing through a door quickly without help, or opening a heavy window with no problem- these actions are not as always as easy as they first appear. With a leg in plaster, a full load in your arms or when using a pram, simple everyday actions can become a real challenge. The solution is accessible planning, construction and living.
What does access for all mean?
We've all been there: you are standing in front of a door with heavy bags of shopping in your hands and have to open it with your elbows. Or you have to put a wobbly stool in place to tilt the window - which is an inconvenient and sometimes even dangerous situation. We frequently encounter obstacles on a daily basis that complicate our lives and take up valuable time.
Accessible building and living removes obstacles from your daily life. The effects are clearly positive: access for all is good for everyone. Threshold-free entrances and wide doors not only help older people or persons with walking aids, but also families with prams or travellers with heavy luggage. Accessibility means increased comfort and a better quality of life for everyone.
Accessibility is a key topic for society, and one which affects us all. Everyone has the right to unimpeded access to all designed living areas, regardless of their personal living situation, physical condition or age. Accessibility allows everyone to live as equals, self-sufficiently, and without external help.
Accessible planning, construction and living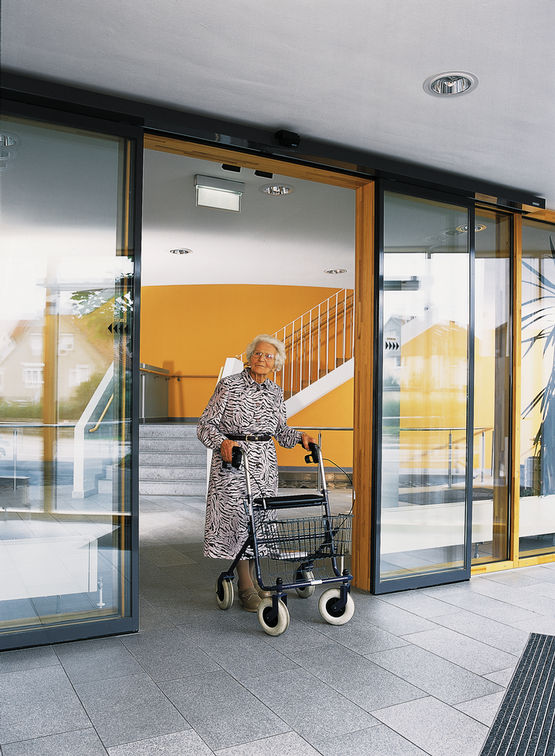 Automatic doors for barrier-free access
Public awareness of the subject of access for all has increased in recent years. In particular, accessible planning and construction for public buildings and private housing is playing a key role. The goal of accessible building is to plan and construct buildings and housing such that they can be used by anyone without help and without limitation. There are important reasons for this. The number of people who are able to and want to lead an independent life into old age is rising.
Enshrined in law, access for all is also increasingly demanded by people with disabilities. Only through the removal of barriers is a life without the constant support of others possible for these people. In addition to this, there is the very topical issue of "inclusion", the right of every individual – with or without a disability – to be able to go everywhere.
New and sustainable lifestyles, which include simple use of buildings and spaces, are also a clear trend. With helpful mechanisms, access for all is very closely associated with comfort and design. The term Universal Design is becoming increasingly important in this context. The international design concept creates living spaces that are accessible, understandable, and usable equally by all. According to this concept, buildings must be made easy to access for the largest possible groups of people, and it must be possible to use them without help. Universal Design is not directed towards a specific target audience, but rather makes things easier for everyone. Accessible planning and building is also reflected in the Universal Design.
Legal and normative framework conditions
Accessible design for architectural environments and buildings is required by numerous legal provisions and standards. The regulations vary according to the country. In Germany, access for all is enshrined in the model building regulation, and in the state building regulations, and is an integral criterion for public buildings.
Accessibility in the private sector
More and more people would also like greater comfort and quality of life within their own four walls. This means that many private construction projects are increasingly looking to accessible concepts such as Universal Design. Intelligent living in smart homes is also becoming more popular. In addition to the Universal Design and Smart Home concepts, there are also additional concepts in the private sector which have similar aims. Essentially, they have one thing in common: a focus on people and solutions to create access for all in everyday life.
Accessibility offers numerous advantages in all areas of life. It helps people suffering the temporary consequences of accidents, people with prams, baggage or shopping bags, and families with small children. Automated door and window solutions thus offer increased user comfort - particularly when manual operation of doors or windows is inconvenient, difficult or even impossible.
In addition to comfort-related optimisation, independent life inside and outside also plays an important role. Something that is easy for many becomes very difficult or impossible with age. In the next few years, Germany will see a significant change in the age structure of its population. The proportion of those aged 65 and over is continuously increasing. One in three citizens will be at aged 65 or over by 2060. Given this changing age structure in Germany, the older generation of the future is already dealing with the topic of access for all. Older people today are also more active than ever before, and hope to live independently into old age.
Designing accessible doors and windows with GEZE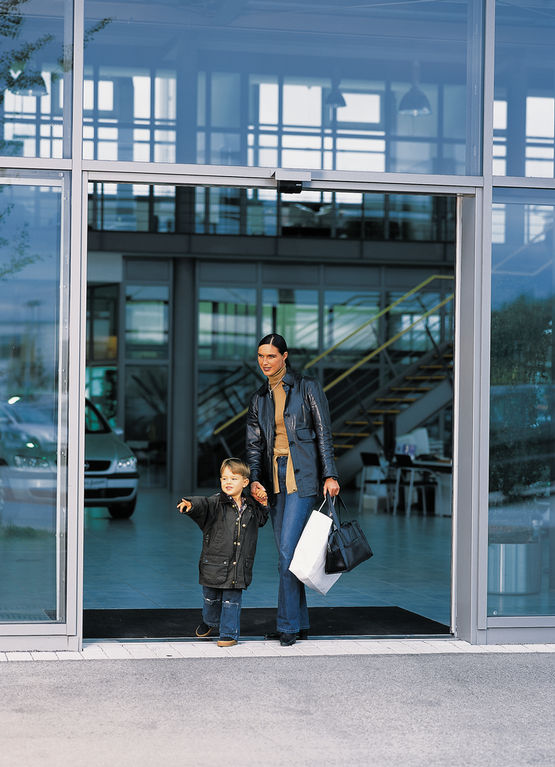 Barrier-free door systems for greater user convenience
Operating and passing through doors and the opening and closing of windows are some of the most important aspects of accessible design. As a pioneer in the area of access for all, GEZE removes barriers with a comprehensive selection of innovative and individual solutions for door, window, and safety technology in both the public and private sectors.
GEZE solutions offer increased safety and convenience thanks to their simple and intuitive operation. They take personal wishes and individual needs into account, and make life more simple and comfortable. Building-related solutions from GEZE can also be perfectly integrated into room design in terms of their appearance.
Automatic door and window systems from GEZE meet the most stringent safety standards and comply with the guidelines of the DIN standards for accessible building. With complete solutions from a single source, GEZE is an expert partner for the implementation of projects in accordance with the applicable standards - from the planning phase to the after-sales service.
Go to the GEZE automatic swing door systems
Go to the GEZE automatic sliding door systems
Go to the GEZE automatic revolving door systems
Accessibility in the new Leonberg town hall
GEZE has planned and created a complete concept for access for all and building security in the new Leonberg town hall. The door and window solutions from GEZE perfectly integrate into the purist design of the new-build. Learn more here!
Individual and building-related planning
Consideration of the subject as a whole during the planning phase is crucial in providing comprehensive and universal access for all in a new building. GEZE offers comprehensive support, including for the planning phase. The designs were created according to the needs of the building's various user groups, in compliance with all legal requirements, and n line with DIN 18040 as the planning basis for access for all.
Architect hotline
Our project consultants are available via the GEZE architect hotline (Mo-Thu: 9:00 a.m. - 4:00 p.m. / Fri: 9:00 a.m. - 3:00 p.m.) to provide you with detailed information and advice on our products and their use. Give us a call on +49 (0)7152/203-112.
Multifaceted competence from a single source
GEZE offers a wide range of products in the area of accessible construction - from automatic door drives, hold-open systems, free swing door closers and activation devices to access control, panic locks, electric window opening systems, RWA and SHEV. All products can be simply and safely assembled and are suitable for use in public and private buildings.
Comprehensive service from the outset
GEZE supports access for all in existing as well as new buildings. Unlike ensuring access for all in new buildings, adapting existing buildings is a greater challenge in terms of planning and design. GEZE experts can optimally solve these challenges with their specialist skills and many years of experience. GEZE supports you as a professional partner from the outset. Thanks to the closely woven GEZE distribution network, we can provide consultants who can demonstrate possible solutions on site for you even at short notice.