The new ABUS KranHaus with the latest door, window and safety technology by GEZE
'KranHaus' is the name of the new sales and training centre of the crane manufacturer ABUS at the company's headquarters in Gummersbach. The four-storey open-gallery building was commissioned last year. Using system elements from the door, window and safety technology range, GEZE has simultaneously delivered multiple object-specific solutions which uniquely fulfil the high demands of usage, comfort and safety within the 'smart' building complex.
All-round BACnet networking in the KranHalle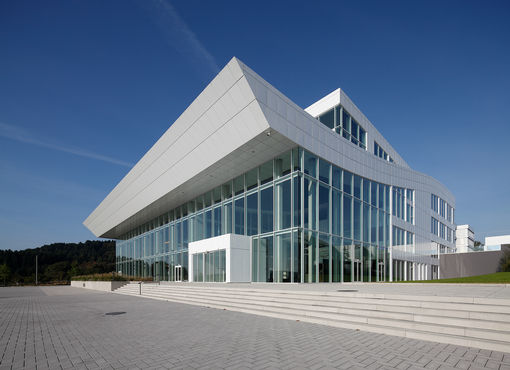 GEZE has barrier-free access and convenient ease of entry to the large entrance area of the 'KranHalle' showroom by installing automatic sliding door system as escape routes. They fit discreetly in the external façade, and support the transparent design of the vestibule, which also serves as an interlocking door system. In the traditionally slim GEZE 7 cm look, the efficient Slimdrive SL NT drives move the almost three metre-high sliding door leaves, creating an opening width of almost four metres.
Preventive fire protection is guaranteed by the networked RWA exhaust air opening on the large roof of the entire building complex. The GEZE BUS system has created a fast and cost-effective 2-wire BUS solution on CAN basis. The window technology range delivers the optimal RWA spindle drive according to the size, location and ventilation demands of the individual skylights. The supply, coordination and monitoring of all RWA drives in the skylights – whether in the RWA case or for controlled ventilation – is managed by MBZ 300 RWA control units in different performance classes. Networking the RWA exhaust air openings has the added advantage that, with the help of a BUS coupler, fire detection and individual control of the RWA systems can be managed via the fire detector central unit.
Crane technology experienced: 'hitch-hiking' ten metres up
Customised construction components from the Customer Solutions division demonstrate how comprehensively GEZE can meet specific demands: The highlight of the four-storey open 'Kranhalle' is the double-girder crane. Visitors can take the lift ten metres up, and see how it feels to drive a ''crane. To access the crane girder, GEZE has created a double-action glass door embedded in the safety balustrade, which opens in both directions. The template for this was the Pendulo glass partitioning wall with an invisible integrated door closer in the design profile.
For maximum safety, the double-action door has been equipped with an electromotive IQ lock EL, and is always locked. In accordance with the principle of modern machine safety or platform screen doors, they unlock to allow access only when halted at the precise fixing point – only then does the crane girder emit a signal via the programme controller to release the lock. Before the ''crane sets off, the glass door closes in just the same way, and self-locks via the IQ lock EL.
All-round BACnet networked
Automatic sliding door systems by GEZE in the glass façade of the ABUS 'KranHaus'. (Image rights: ABUS Kransysteme GmbH)
All-round BACnet networked
Automatic sliding door systems by GEZE in the glass façade of the ABUS 'KranHaus'. (Image rights: ABUS Kransysteme GmbH)
All-round BACnet networked
The IO 420 BACnet interface module by GEZE © GEZE GmbH
Walkable double-girder crane
Tailored access to the overhead crane: The glass double-action door sits as one with the glass safety balustrade. (Image rights: ABUS Kransysteme GmbH)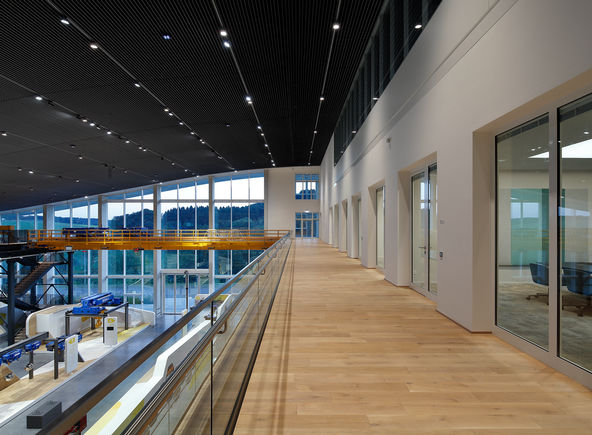 Walkable double-girder crane
Tailored access to the overhead crane: The glass double-action door is ''as one with the glass safety balustrade. (Image rights: ABUS Kransysteme GmbH)