BAU 2017: multifunctional and centrally controllable – the Powerturn F-IS/TS
Automatic door systems can be integrated into building management systems via the BACnet interface module, and controlled centrally. GEZE introduces a new multifunctional and visually appealing elegant version of a double-leaf swing door system with an automatic and a manual door leaf.
The 'strong' connection of automatic doors and door closer technology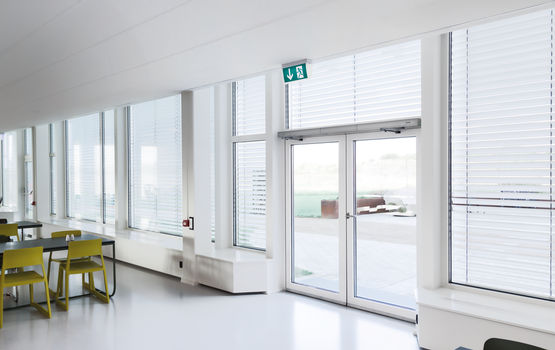 Escape route with Powerturn in the Danish Association for Disabled People, Taastrup, Denmark © Morten Bak / GEZE GmbH
An accessible automatic door in daytime operation – a secured emergency exit in night-time operation: as a management system, the TZ 320 emergency exit protection system monitors automatic door systems. The BACnet-based IO 420 module enables integration into building management systems. This means that door systems can be monitored remotely, and the mode of operation changed quickly and easily if needed. Reports of disturbances can also be received.
The unique combination of swing door drive and door closer is an attractive variant for double-leaf doors where it is mainly the active leaf that moves, and it is therefore operated automatically for increased convenience. One particular visual feature is the universal drive look across both door leaves. The 'Duo' is an optimal solution on asymmetrical doors too.
System for double-leaf systems
The active leaf is equipped with the Powerturn swing door drive. Its strengths are barrier-free ease of access, a high range of functions, creative freedom and a discreet design. The Powerturn also opens large and heavy single- and double-leaf doors easily and safely, at prestigious entrances or indoors. At a height of only 7 cm, the drive is suited for any installation situation, and moves door leaf weights of up to 600 kg.

The passive leaf is equipped with a door closer, e.g. from the TS 4000 or TS 5000 series, and is opened only when necessary. The drive housing also contains the closing sequence control required for fire protection doors. It guarantees that both door leaves are correctly closed again in a controlled way after they have been used, e.g. by individuals leaving in the event of danger. The Powerturn F/R-IS/TS swing door drive/door closer combination for hold-open systems unites innovative technology and design, as the smoke control unit is invisibly integrated into the cover.
Child's play and energy-saving
The Powerturn makes manual door opening easy, thanks to the Smart swing function. This means that anyone can manually open even large, heavy fire protection doors with closing springs up to closing force EN 7 with ease. Secure closing is always guaranteed thanks to the mechanism of the integrated energy store – which also benefits energy consumption.
Electromechanical swing door drive for accessible single leaf doors weighing up to 600 kg
A wide variety of installations – easy and intelligent
The smart GEZE installation system ensures simple and safe installation. A manual teaching run ensures it can be commissioned in the shortest time possible. The Powerturn can be maintained without removing the drive cover.
A wide variety of door scenarios – flexible and fit for the future
At this year's BAU exhibition, GEZE will presenting the implementation of various door scenarios enabled by its Powerturn product. For example, the Powerturn can be integrated into a system solution with the IQ lock AUT electronic motor lock, or into the TZ 320 'stainless steel' door control unit as the core of the escape door control system, into the FTV 320 escape door lock or into the GC 342 safety sensor. The entire system combines automatic, barrier-free door comfort, increased burglar resistance, fire protection, protection of escape routes and complete protection when the door moves – with outstanding door design too. The door system can also be used as a fresh air opening in RWA systems, to provide natural ventilation.
Three awards
The Powerturn won two Plus X Awards: the 'Innovation Prize' and the 'Best Product of the Year 2015/16'. It also received the Environmental Product Declaration (EPD) sustainability certificate, a globally recognised eco-label.