Secure and quiet – the new door closer TS 5000 SoftClose
Door closers should not be conspicuous, since doors need to close as reliably and quietly as possible, without negatively impacting ease of access. However, some room conditions make it more difficult for the door to close securely and silently. Because of this, we have expanded our portfolio and launched a new variant, the TS 5000 SoftClose, in addition to our proven TS 5000 door closer. In an interview, Alexander Müller, Product Manager in the door technology area, explains the advantages of the TS 5000 SoftClose and special features for installation companies and operators.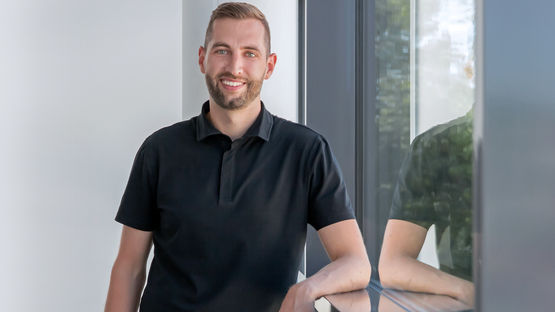 Our expert in door technology: Alexander Müller © GEZE GmbH
Mr Müller, many people, when they think about door closers, might initially think of slamming doors. Building operators, in particular, have to address the question of how doors can close securely in interlocking door systems, even with a door closer. You are familiar with this issue, aren't you?
Alexander Müller: Of course, we are familiar with it. Actually, this was the reason we developed our new door closer TS 5000 SoftClose. Think of multi-family buildings, office buildings, or hospitals and homes for the elderly, in particular – all environments where people expect a certain level of quiet. Doors need to close quietly here, but also securely. Our new door closer makes this reliably possible – even in interlocking door systems. In the past, this problem was almost impossible to solve: Either one of the two doors is closed and the door closer for the other door has to close against the dynamic pressure generated, or the second security interlocking door is still open and the closing process is not disrupted. If you set the door closer to handle situation 1, the door will slam loudly in situation 2. If you do the opposite, it may not close correctly. I don't want to think about how much time has been spent trying to adjust these settings. Overflow dampers help somewhat, but cost extra, of course. Holding one door open using a hold-open system does make it easy to adjust the other door, but the costs are higher. With our TS 5000 SoftClose, we are finally offering the market a good answer to this very common problem.
The TS 5000 is already available – is the TS 5000 SoftClose going to take over its position?
Alexander Müller: No, certainly not. The TS 5000 is already an all-around choice and a best seller on the market, and we will definitely continue to offer it. We want to emphasise: the TS 5000 SoftClose will not be replacing the TS 5000, simply expand it – as needed. We recommend the TS 5000 SoftClose for challenging installation situations with changing pressure levels where doors still need to close securely, and ideally quietly as well. The door closer perfectly combines these stipulations. It won the German Innovation Award and Iconic Award for good reason.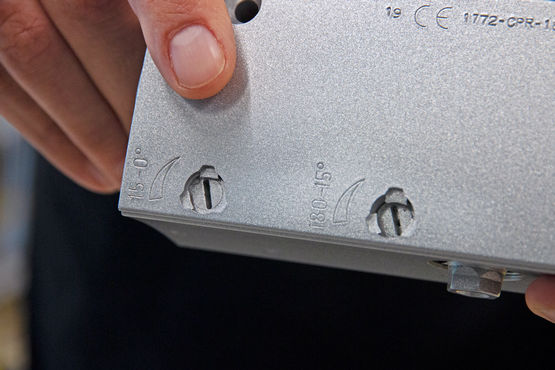 Alexander Müller shows the perfectly coordinated valves of the TS 5000 SoftClose. © GEZE GmbH
[Translate to English:] Sie möchten sehen – und vor allem auch hören, wie leise der TS 5000 SoftClose schließt? Dann Film ab!
What makes the TS 5000 SoftClose so special?
Alexander Müller: The fact that it succeeds in combining quiet and secure closing so perfectly! Often, security might suffer because of a need to reduce noise – but that doesn't have to be the case. The TS 5000 SoftClose stands out here with innovative coordinated valves. This means we still have two valves, but they are uncoupled from one another. The last 15 degrees of the opening angle are set completely independently of the speed of the door leaf otherwise. The latching action speed can be set with variable adjustment over these last 15 degrees, which are decisive for how the door closes. This allows the door to close in a controlled manner. And the best thing for the installation company is that this correlates with the door leaf over the distance from 180 to 15 degrees without setting the closing speed. That means the door closer needs almost no adjustment.
The two challenges with door closers are that, on the one hand, the door needs to close securely to fulfil fire protection stipulations. On the other hand, it should not slam into the lock – no matter what changing pressure situations the door is exposed to.
Alexander Müller, Product Manager in Door technology at GEZE
Learn more about the TS 5000 SoftClose in the video
So, do installation companies primarily, benefit from the TS 5000 SoftClose?
Alexander Müller: Installation companies should be glad to learn that all functions are easy to access and can be adjusted from the front. In addition, a single valve is all that is needed to adjust the latching action speed, with no additional attachments. This generally speeds up installation. That saves money and time, in particular when installing multiple door closers in one building. If you are already familiar with or using the TS 5000, this will be particularly easy since the TS 5000 SoftClose is part of the same family. Hole pattern and accessories are the same, and you can also use the guide rails of the TS 5000 for the TS 5000 SoftClose. Retrofitting is therefore very simple.
Building operators will certainly benefit from this, as they can ensure carefree, secure use of the building with lower operating and maintenance costs. No extra costs are charged for additional components. In addition, there is no need to disrupt operations, due to the ease of installation. Last but not least, operators will no longer need to field complaints about slamming doors.
Installation companies will certainly be glad to learn that all functions are easy to access and can be adjusted from the front, and that the latching action speed can be controlled with a single valve.
Alexander Müller Product Manager of door technology at GEZE
We should also not forget architects, who can benefit from the TS 5000 SoftClose: Architects will certainly enjoy using the TS 5000 SoftClose if they are looking for the perfect door closer solution for challenging situations. The potential applications have been expanded significantly. Since the TS 5000 SoftClose has the same dimensions as the TS 5000, the entire project has a great, consistent and uniform look with the streamlined, high-quality GEZE design customers expect.
Mr. Müller, thank you very much for speaking with us!
ALL PRODUCT DETAILS FOR THE TS 5000 SOFTCLOSE