Case studies
GEZE provides building safety in the Grand MOMA Beijing
The Grand MOMA in Beijing is already one of China's ten most important structures. GEZE made a major contribution to the safety and comfort of the complex with innovative door and safety technologies – installing a total of 1,600 swing doors in customised designs.
The Grand MOMA: Facts and figures
Self-closing fire protection doors
The GEZE TS 5000 is one of the best known door closers on the international market. The overhead door closer impresses not only by gently closing swing doors securely, but also with its clear and modern design which integrates perfectly into the aesthetics of the Grand MOMA. In addition, the TS 5000 is permitted for use on fire and smoke control doors, making a key contribution to building safety.
Smoke and heat extraction window drives: Building safety and ventilation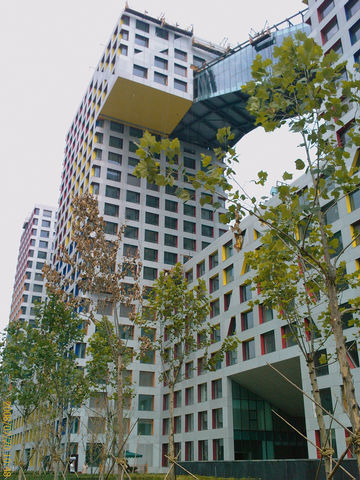 The highest demands for functionality and building safety: the Grand MOMA in Beijing.
Some of the windows on the Grand MOMA were equipped with the GEZE E 250 RWA electric spindle drive, and can be opened or closed using a central control unit.
The electric spindle drive opens and closes bottom-hung, top-hung, and side-hung leaves, roof windows and skylights electrically, with individually adjustable opening widths. The E 250 RWA ensures everyday natural building ventilation in the Grand MOMA. In the event of a fire, the electric window drives open automatically to reliably extract smoke and heat.
Energy-efficient solutions for the 'city within a city'
In focus: customised solutions for door technology and building safety.
The Grand MOMA is designed as a 'city within the city,' comprising housing and offices, as well as a theatre, government offices and a kindergarten along with several restaurants and supermarkets. One of the many unique features of the complex is that it was planned based on ecological principles. Large reservoirs hundreds of meters deep cool and heat the high-rise towers in response to the weather conditions.
Overall, the Grand MOMA produces three to four times more energy than traditional climate control systems per energy unit. The project is unique within China for its 'green architecture' concept.
Solar shading in harmony with building safety
Safe and efficient: Solar shading on the façade regulates the interior temperature.
VBH solar shading systems fitted to the outside of the building complex also improve energy efficiency: The exterior shading prevents the building's interior from heating up too quickly, so that it requires less air conditioning. Since high-rise building façades are typically exposed to strong wind, the client was especially interested in designing a stable and robust solar shading solution.
GEZE products in the Grand MOMA, Beijing