Case studies
Sliding door systems in the vocational centre: Innovation in education and design
The modern, four-storey extension to the Kottenmatte Sursee vocational training centre has been designed to tackle the Lucerne vocational schools' growing need for spaces. The entrance area to the vocational centre is defined by modern sliding door systems by GEZE that combine comfort and emergency exit protection.
GEZE sliding door systems: Safety, comfort, and design
The Kottenmatte Sursee vocational training centre combines the Emmen, Sursee, and Willisau vocational training centres in Switzerland. The Sursee site has been providing vocational training in the fields of economics, computer sciences and technology and, as of recently, health and social services for over 30 years. The Kottenmatte vocational training centre has now responded to the lack of space at the Luzern vocational training schools and their more than 4,400 students by building a modern, four-storey extension, enabling effective vocational school planning. The project included renovating the existing main building, and building a four-storey extension.
The main entrance to the building features a large glass sliding door system by GEZE which offers comfortable, barrier-free ease of access and which integrates perfectly into the clear and modern architecture of the new building. Not only does the sliding door system save space, the elegant glass design also allows optimal use of daylight, making the entrance area appear even brighter and more transparent.
Quiet and powerful: Automatic Slimdrive sliding doors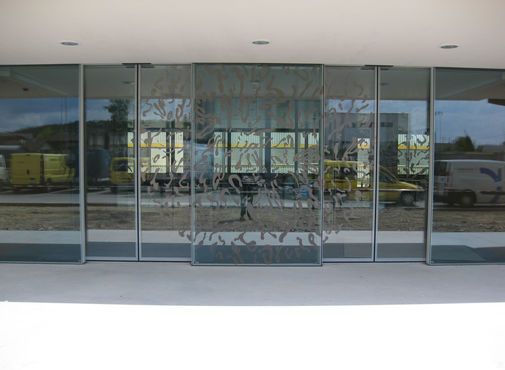 Automatic sliding doors printed with images of the sun create constantly changing impressions. © GEZE GmbH
The sliding door system was equipped with the GEZE Slimdrive SL sliding door drive in an escape route design, in common with all of the other automatic sliding doors in the escape routes throughout the vocational centre. The modular and very compact door drive, with a drive height of just 7 cm, was specially developed for frameless all-glass systems and integrates perfectly into the modern building design. The minimalist design of the glass elements remains completely unaffected by the integrated all-glass technology. The sliding door drive works quietly and very precisely, and is ideally equipped to cope with the large numbers of people passing through the entrances and passageways of the vocational college during busy periods.
First-class functionality with outstanding design
The sliding door system in the main entrance to the vocational centre stands out not only for its functionality, but also for its outstanding appearance: The unique design by artist Daniella Tuzzi is named 'The sun, she ...' and gives the entrance area a unique character and added elegance. The segment of a drawing of the sun that has been placed on the automatic sliding doors produces a kaleidoscope of constantly changing images each time the door is moved. The artist's inspiration for the design was the poem 'Wanderlied' by Justinus Kerner, which deals with themes such as dreams and childhood friendships.
GEZE products in the Kottenmatte Sursee vocational training centre
Automatic Slimdrive sliding doors
Integrated all-glass technology
GEZE Slimdrive SL sliding door drive with IGG