Opening drives
Powerchain Chain drive for large and heavy window elements that need large opening widths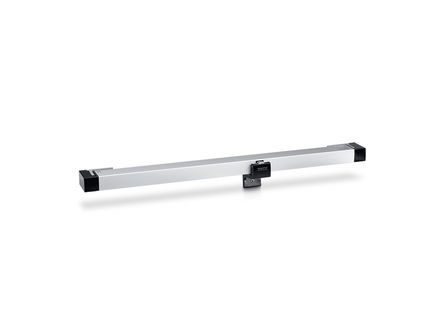 Fast opening speeds in the case of smoke and heat extraction, even for very heavy windows
Drive stroke with variable adjustment and individual speeds for ventilation and smoke and heat extraction
Available as a special version - configurable stroke, cable length and colour
Synchronisation of max. four drives without external control unit
DIP switches for changing the mode of operation (Solo and Syncro, master, slave)
Fast and easy installation with the GEZE Smart fix installation system
IQ windowdrive - intelligent drive control
Tested in natural smoke and heat extraction devices (SHEV) in accordance with EN 12101-2
Contact us
Chain drive for large and heavy window elements that need large opening widths
Application Areas
Smoke and heat extraction system and natural ventilation (24 V) in the façade and roof area
Can be used in the exhaust air and fresh air system
Inward- and outward-opening windows with bottom-hung, top-hung and side-hung leaves
Roof windows
Installation on wooden, plastic or metal windows
Casement and frame installation
Synchronisation of up to four drives
System solution in combination with the Power lock locking drive
Installation situations in reference objects and videos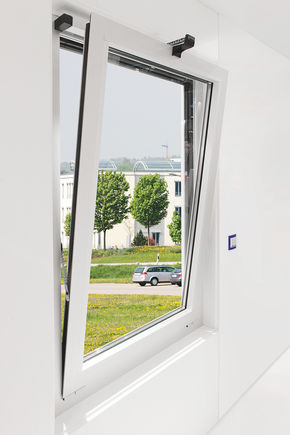 Chain drive Powerchain with safety scissors
Chain drive for large and heavy window elements that need large opening widths, installed in a residential buiding © GEZE GmbH
Installation movie GEZE IQ windowdrives synchronisation mode, powerchain-drives
With the commissioning case, the window drives from the IQ windowdrives range can be quickly and easily commissioned and tested even without a power connection.
Installation video GEZE Powerchain - electric window opener
The electric window opener GEZE Powerchain is suitable when large forces and very large opening widths are required. Nevertheless, it is quickly assembled with the innovative GEZE Smart fix mounting system.
GEZE Commissioning case for IQ windowdrive product video
The commissioning case offers everything that is needed to be able to commission and test window drives from the GEZE IQ range on site, even without any power connection.
Product specifications
| | |
| --- | --- |
| | Powerchain |
| Dimensions (W x H x D) | Length x 36 x 51 mm |
| Length | Stroke 600: 756 mm, stroke 800: 856 mm, stroke 1200: 1056 mm (each with consoles) |
| Height | 36 mm |
| Installation depth | 51 mm |
| Space required on frame (min.) | Frame installation inward-opening: 50/61 mm (for swing leaf DIN L),, casement installation inward-opening: 30/41 mm (for swing leaf DIN R),, frame installation outward-opening: 50 mm |
| Space requirement on leaf (min.) | Frame installation inward-opening: 40 mm, casement installation inward-opening: 50 mm, Frame installation outward-opening 30/41 mm (for swing leaf DIN R) |
| Possible stroke heights | 600 mm, 800 mm, 1200 mm |
| Opening speed RWA | 15 mm/s |
| Opening speed ventilation | 5 mm/s |
| Tensile force (max.) | 600 N |
| Force of pressure (max.) | 600 N (depending on stroke), see force-path diagram |
| Holding force (max.) | 3000 N |
| Leaf weight (max.) | 200 kg* |
| Overlap range | 0 - 23 mm (depending on application and brackets) |
| Operating voltage | 24 V, ± 25 % |
| Current consumption | 1.5 A |
| Current consumption | Ventilation (24 V): 1.2 A; RWA (18 V): 1.5 A |
| Power consumption (max.) | 36 W |
| Duty rating | 30 % |
| Special length of power supply cable | 5 m, 7.5 m |
| Cable dimensions | 4 x 0.75 mm² |
| Temperature range | -5 °C - 70 °C |
| IP rating / protection rating | IP40 / III |
| Syncro function | No |
| Syncro function | Yes |
| Adjustable opening speed (ventilation) | Yes |
| Additional locking available | Yes |
| Type of additional locking | Locking drive |
| Type of stroke shortening | Synchronising unit, Factory setting |
| End position cut-off extended | electronic, via internal path sensor |
| End position cut-off retracted | electronic via current consumption |
| Overload cut-off | Yes |
| Complete opening within 60 s | yes, up to 800 mm stroke, including locking drive |
| SHEV tested | Yes |
| SHEV tested | yes, up to 800 mm stroke, including locking drive |
| Synchronisation (max.) | 4 drives |
| INWARD-opening bottom-hung window frame installation | Yes |
| INWARD-opening bottom-hung window casement installation | Yes |
| OUTWARD-opening bottom-hung window frame installation | Yes |
| OUTWARD-opening bottom-hung window casement installation | No |
| INWARD-opening side-hung window frame installation | Yes |
| INWARD-opening side-hung window casement installation | Yes |
| OUTWARD-opening side-hung window frame installation | Yes |
| OUTWARD-opening side-hung window casement installation | No |
| INWARD-opening top-hung window frame installation | Yes |
| INWARD-opening top-hung window casement installation | Yes |
| OUTWARD-opening top-hung window frame installation | Yes |
| OUTWARD-opening top-hung window casement installation | No |
| OUTWARD-opening roof window | Yes |
| Projected top-hung window OUTWARD frame installation | No |
| Parallel opening windows OUTWARD frame installation | No |