GEZE Powerturn
Powerturn Electromechanical swing door drive for accessible single leaf doors weighing up to 600 kg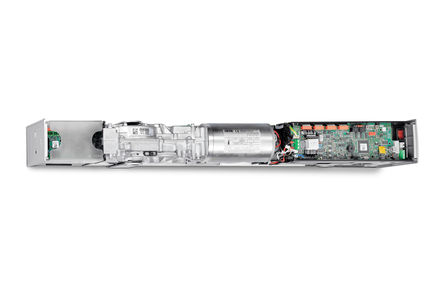 Smart swing function for easy manual door opening
Adjustable closing force of EN3-7 with variable adjustment
Opening and closing speed can be individually adjusted
Mechanical latching action when operated without current, and electrical automatic unit latching action in regular operation, which accelerates the door shortly before the closed position
Low-energy function opens and closes the door with reduced speed, fulfilling the highest safety requirements
Servo function for motorized support when manually opening the door
Vestibule function controls the opening and closing of two consecutive doors (interlocking door system)
Obstacle detection detects objects through contact and stops the opening or closing process
Automatic reversing detects an obstacle and returns to the opening position
Push & Go function triggers the automatic drive components following light manual pressure on the door leaf
Drive can be used with roller guide rail or link arm
Optional radio board for wireless activation by radio transmitter
Contact us
Electromechanical swing door drive for accessible single leaf doors weighing up to 600 kg
Application Areas
Right and left single leaf single-action doors
Single-action doors up to 1600 mm leaf width and 600 kg weight
Minimum leaf width 800 mm
Interior and exterior doors with high access frequency
Door leaf installation and transom installation
Installation situations in reference objects and videos
Fully automatic swing door drive for doors until 600 kg
Powerturn in the Danish Association for People with Disabilities, Taastrup, Denmark
Powerturn swing door operator in use on a double-leaf door
Escape route with Powerturn in the Danish Association for People with Disabilities, Taastrup, Denmark © Morten Bak / GEZE GmbH
Installation video GEZE Powerturn (swing door drive) sensor roller guide
With the GEZE sensor roller rail for the Powerturn swing door drive, installation is also possible on very narrow door profiles.
Installation video GEZE Powerturn, swing door drive
The swing door drive Powerturn is characterized by flexible installation. It makes it possible to realize different types of installation with only one drive variant.
Installation video of the swing door drive, GEZE Powerturn IS Mechanism
The Powerturn revolving door drive with integrated door-closing control is ideal for double-leaf fire doors and emergency exit doors
Product specifications
| | |
| --- | --- |
| | Powerturn |
| Height | 70 mm |
| Width | 720 mm |
| Depth | 130 mm |
| Leaf weight (max.) 1-leaf | 600 kg |