Solutions
Visualization of emergency exits in rescue routes Solution for status and location visualization of doors in escape and rescue routes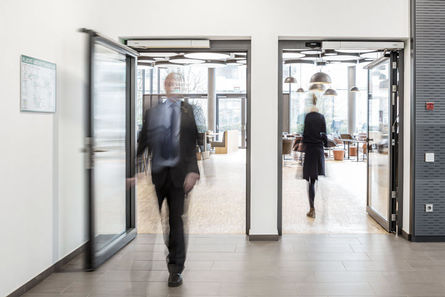 Visualization and operation of doors via GEZE Cockpit
Transparency and safety in building operation for facility managers
Convenient operation via graphical user interface
Location-independent control of door statuses
Time-controlled automatic release or securing of doors
Malfunctions can be detected and corrected faster
Optional additional integration into building management systems
Monitoring of automated emergency exits
Contact us
Solution for status and location visualization of doors in escape and rescue routes
Emergency exit systems (RWS) ensure safe escape and rescue routes in your building in the case of danger. Strict regulations apply for building safety. A clear overview of all components of an emergency exit system is particularly important here. Modes of emergency exits are visualised by browser-based applications. Door control units can be directly monitored and operated – regardless of location. In case of danger, electrical lockings are automatically activated and escape routes are released.
Application Areas
Connection of the TZ320, TZ321, TZ322 door control units
Recommended use of FTV 320 for escape door locking
GEZE Cockpit and VISU or VISU+
One IO 420 is needed per door control unit for integration
Installation situations in reference objects and videos

Behaviour in the event of a fault
Malfunctions of the escape doors are immediately indicated via the user interface so that a remedy of the fault can be initiated. This ensures the functionality of the escape doors.
Central operating function
The escape doors can be controlled via the surface and thus released or secured. Short-term releases can also be made. This eliminates the need to lock the door control unit via the key switch.

Komfortable Szenensteuerung
Several escape doors can thus be controlled simultaneously via the scene control system. This is also possible on a time-controlled basis, so that escape doors are all secured at a certain time, for example
Alarming
In VISU+ lassen sich zudem Popup Meldungen konfigurieren um zusätzlich auf Meldungen hinzuweisen und Fehlbedienung auszuschließen