Operating elements
GEZE Cockpit Modular building automation system for using different software applications in building automation or BACnet IP integration in other systems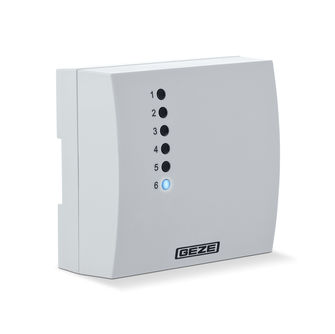 Modular building automation system
BACnet Standardized Device Profile B-BC (BACnet Building Controller)
Visualisation, operation and monitoring of connected GEZE products
Separately licensed browser applications for versatile applications in building operations
Connection option for different BUS lines for flexible building planning and scalability
Powerful hardware for installation in control cabinets. Top-hat rail installation
Configuration software GEZE Cockpit BASIC
GEZE VISU user application for the visualisation and operation of GEZE products
GEZE VISU+ software - for additional alarms, monitoring and e-mail notification service
Contact us
Modular building automation system for using different software applications in building automation or BACnet IP integration in other systems
Application Areas
Networking of door and window technology with smart software and open interfaces
Building automation of GEZE products
BACnet IP integration in building management systems
Installation situations in reference objects and videos
GEZE Cockpit and IO 420
With IO 420 it is easy to connect GEZE products to the GEZE cockpit. Comprehensive visualization, control and monitoring of GEZE products via GLT systems or GEZE cockpit. Measurability and evaluation of all activities in the areas of door, window and safety technology. Connection of further components possible at any time.
GEZE Cockpit the first smart door, window and safety system. - product video
For more efficiency, security, and convenience. For dynamic safety and fire protection concepts. For intelligent smoke and heat extraction, and for targeted escape route approval. For modular automation and more opportunities.