The new GC 342+: The efficient protection solution for your automatic swing door
Larger detection area, more safety: The new GC 342+ safety sensor sets new standards for safety. It uses four light curtains to secure both the swivelling range and the secondary closing edge on automatic swing doors in compliance with standards. It is TÜV type-certified with automatic swing-leaf door systems from GEZE.
Safe and comfortable use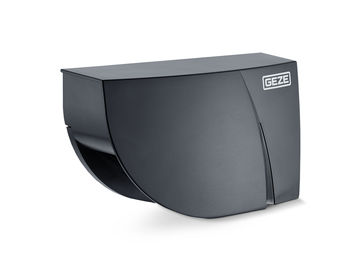 The new, innovative laser scanner from GEZE: the GC 342+ © GEZE GmbH
For each door system, GEZE offers the most suitable safety solution according to the complexity and configuration. The GC 342+ covers a large area of the door leaf with its four laser light curtains. This means the door only closes after the user has passed through. Users can move at their own speed through the door, completely barrier-free. This makes the GC 342+ the first choice, for instance, for use in restaurants and catering or in hospitals. In addition, doors can be opened via the detection area and two additional virtual push buttons. This offers significant added value for hygiene and safety, since users can pass through the doors with no contact. In addition, the GC 342+ protects the secondary closing edge so well, that a mechanical finger guard can be omitted in most cases.
Easy installation
Another bonus is simple and fast installation and commissioning. Processors will enjoy easy installation, compared to a sensor strip, giving them extra time. All settings are ergonomically accessible from the front. The intelligent learning mode enables teach-in of the ground, regardless of the floor condition, plus obstacles near the door can be blanked out intuitively by one-button operation.
Discover the GC 342+
Overview of highlights of the GC 342+:
All-around safe – 3D cover in the door leaf area provides significantly increased protection, especially in the area of the secondary closing edge.
Hand and foot – Opening via the detection area, plus two additional virtual opening push buttons for touchless opening (controlled by hand or foot).
Everything in its own time – The door only closes once the user has passed through it. The user can walk through the door in his or her own pace.
Setup made easy – Intuitive installation – e.g. teaching: The size of the detection area is defined via hand movement.
Video on differences between the GC 342 and GC 342+
Press information
For editorial enquiries:
Jonathan Wurster
Panama PR GmbH
Tel.: +49-151-7200-1413
E-Mail: geze@panama-pr.de