ICONIC AWARDS 2018: innovative interiors – double award for GEZE
GEZE product solutions were once again recognised at the ICONIC AWARDS: The international jury of experts, comprising representatives from the design, trade and media sectors, awarded both the 'Climate-active façade with GEZE IQ box KNX' by GEZE and the GEZE ActiveStop door damper in the 'Building Equipment' category.
'Winner' and 'Best of Best'
The 'Climate-active façade with GEZE IQ box KNX' solution was the winner of the ICONIC AWARDS 2018: Innovative Interior – 'Winner' award. It enables the window drives from GEZE IQ windowdrive series to be linked to the KNX building bus via the GEZE IQ box KNX interface module.
Additional components – such as heating or air-conditioning – can also be integrated via KNX actuators. KNX sensors provide data regarding room air quality and outside environmental conditions. Intelligent natural ventilation ensures an optimal, energy-efficient indoor climate, and protects stock by automatically closing the windows during strong winds or heavy rain.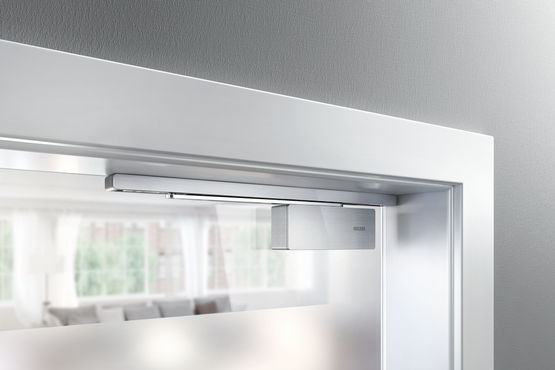 The new 'GEZE ActiveStop damper fitted on the door frame door even received the 'Best of Best' award. GEZE ActiveStop promises a new kind of comfort for doors, combined with elegant design. It is easier and more comfortable to enter a room than ever before. The intelligent system ensures controlled, dampened opening and closing of interior doors.
The GEZE ActiveStop is now available in both a version integrated into the door leaf and a retrofitted on the door frame variety, which can be attached and easily removed again. This is a big advantage when used in rental properties, for example.
The ICONIC AWARDS: Innovative Interior

The aim of the ICONIC AWARDS: Innovative Interior to uncover and award the best in all areas of interior design. Innovative excellence from all product areas in the industry will be recognised in new award categories. The winning products will impress not least with their outstanding practical value, the whole concept, their functionality and usability, and the level of innovation.
The awarding authority is the German Design Council, which has supported economic activity in all design issues for over 60 years, and is one of the world's leading centres of excellence in communicating integrated design. Alongside the the ward, the German Design Council publishes the ICONIC Magazine where all the winning products are presented in detail. The winniner will also feature in the German Design Council's ICONIC WORLD online database of companies and projects.
The Best of Best awards ceremony will take place on 14 January 2018 in the in Cologne, when the exhibition of all the winning products opens as part of imm cologne 2018. All the winners will appear there under the ''Design in the Kunstverein'' motto.