GEZE wins Architects' Darling Award
Double award: GEZE was awarded the Architects' Darling gold award in the 'Automatic Doors' category and the bronze award in the 'Safety & Access Control' category. Around 400 of the most important representatives of the construction sector attended the gala award ceremony.
German architects and planners have cast their votes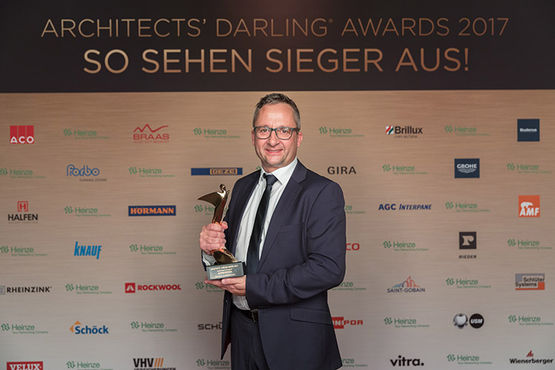 Marco Zaoral accepts the Architects Darling Award in the Gold Award. Industry winner for automatic doors.
Recipientsof the Golden Phoenix represent the most sought-after partners for key decision-makers in the construction field. Market research experts from Heinze, one of the leading information and knowledge platforms in the construction industry, may have chosen the winners but they didn't present the awards: the awarding body which organised the Architects' Darling Awards presented the trophies on behalf of the some 2,000 architects and planners who took part in a large-scale survey. The focus this year was again on the building product manufacturers that architects prefer to work with, and on who delivers the best products and solutions.
Automatic doors from GEZE: Creative freedom and diverse functions 
Automatic door systems by GEZE combine outstanding design with access for all, multifunctional features, safety, and state-of-the-art technology. Whether swing or single-action doors, linear, curved, telescopic, corner, or folding sliding door systems with full glass surfaces and revolving doors, they open up a broad range of design options and fit into any architectural environment.

Sliding door systems with drives from the Slimdrive series offer concentrated power and sleek lightness for modern glass façades, with drive technology just seven centimetres tall. Variations on our Powerturn swing door system have already won multiple awards. The 'strong' door drive can be integrated into a wide range of different door systems thanks to its flexibility and low overall height, easily and safely opening even large and heavy single- and double-leaf doors. Manual, effortless opening is also made possible by the unique Smart swing function.
Always on the safe side with GEZE
GEZE safety technology on doors and windows is decisive in fire prevention, access control and burglar resistance in escape and rescue routes. Customised solutions combine individual safety demands in one intelligent system so that doors and windows are opened and closed in a coordinated way in an emergency.
'Smart' building technology – ready for the future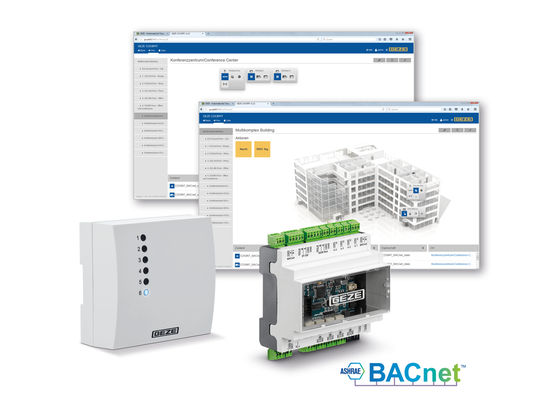 Products and solutions by GEZE can be integrated in 'intelligent' building management system applications. Networking options offer central control and visualisation functions for the automated doors and windows in one building. Thanks to interdisciplinary networking between different building functions, GEZE completes the building automation and turns any building into a truly 'smart building'.
With the new GEZE Cockpit building automation system and networking modules, all of the 'intelligence' of GEZE products can be brought into buildings, and networked using leading global communication standards. GEZE Cockpit can be operated as an independent system, or integrated into a higher-ranking building management system.
Access management at 'smart' front doors
Smaller building units or family houses and apartments can be optimised to create 'smart homes'. Everything from a single source and completely in accordance with the user's wishes, the new modular GEZE front door pack turns a simple front door into an automated access solution that can be integrated into an existing Smart Home system. The flexible selection of components allows for a customised front door package, e.g. unlocking the door using 'Fingerprint' access control.
GEZE supports architects through every phase of construction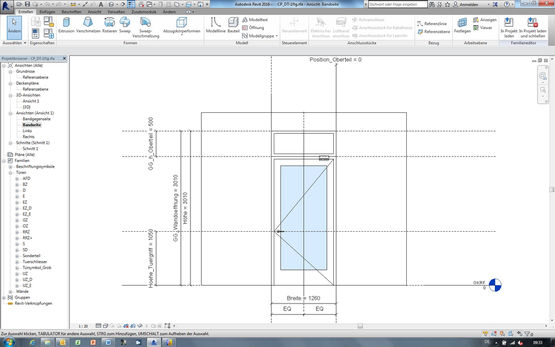 Maximum service for architects comes naturally to GEZE. Project solutions are implemented using integrated planning with products that are perfectly aligned. There is a comprehensive range of services available in every phase of construction. GEZE also supports architects in preparing of tender documents, building-specific drawings, door lists, BIM objects, and regularly organises seminars for architects.
Door planning is easy with GEZE BIM objects
With GEZE BIM objects, doors are no longer one of the most complex construction components of a building – especially in large buildings with multifunctional doors. Architects, planners, and specialists like GEZE consultants can jointly and comprehensively plan complete door systems. GEZE provides BIM door projects and plug-ins for current, BIM-enabled CAD programs free of charge for its door technology range. Just five multifunctional door types can be used to plan all of the door variations for a building. The door solutions can be displayed and configured in detail in the CAD system as complete projects – from single-action to sliding and revolving doors, including Add-ons such as drives or door closers.