A special honour: GEZE is now a member of the Handelsblatt Hall of Fame
What do the Beatles and GEZE have in common? Both are now members of a Hall of Fame: the Beatles of the Rock and Roll Hall of Fame, and GEZE of the Handelsblatt Hall of Fame. The jury, comprising Handelsblatt editorial staff and the board of the Foundation for Family Businesses (Stiftung Familienunternehmen), elected to admit GEZE in 2022 GEZE – paying particular tribute to the life work of Brigitte Vöster-Alber and a successful handover between the generations. Andrea and Sandra Alber accepted the honour on 29 June 2022 in Berlin before the jury and the Editor-in-Chief of Handelsblatt.
Award for outstanding performance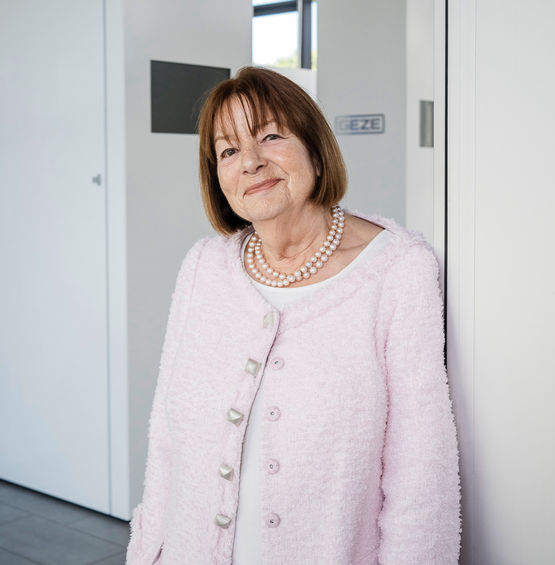 Brigitte Vöster-Alber, Managing Partner of GEZE GmbH until 2020, is delighted to be inducted into the Handelsblatt Hall of Fame. © Sebastian Berger / GEZE GmbH
Handelsblatt is the most renowned and widest circulation German-language business and financial paper. The 'Hall of Fame of Family Businesses' was launched in 2009 in collaboration with the Foundation for Family Businesses. Its members are personalities from German family businesses who have delivered outstanding achievements within their company, and who serve as social role models. In addition to the successful management of the company, the jury also evaluates the family's achievements if, as the main owner, it has a significant and successful influence on the company's strategy. Further criteria include securing and creating jobs for the long-term through innovation and exceptional productivity, environmentally-friendly management, as well as social and cultural commitment.
I see this all most importantly as an honour for the whole of GEZE as an organisation. Because without the performance and loyalty of our employees at the company headquarters in Leonberg, throughout Germany, and worldwide, we would not be here now.
Brigitte Vöster-Alber, Managing director administration
Great honour for the family of entrepreneurs
Brigitte Vöster-Alber, Chief Executive Officer of GEZE GmbH through to 2020, is delighted: "It is of course a great honour for us as a family of entrepreneurs in its sixth generation. But as a business leader, you achieve nothing without the people who make the company. So I see this all most importantly as an honour for the whole of GEZE as an organisation. Because without the performance and loyalty of our employees at the company headquarters in Leonberg, throughout Germany, and worldwide, we would not be here now. This is especially true of recent times which for many of us were, and remain, a personal challenge."
Press information
For editorial questions:
Jonathan Wurster
Panama PR GmbH
Tel.: +49-151-7200-1413
E-Mail: geze@panama-pr.de