GEZE at Light & Building – 8-23 March 2018, Frankfurt Exhibition Centre (Messe Frankfurt)
GEZE will be presenting a new BACnet-based building automation system: GEZE Cockpit is the first smart door, window and safety system.
System integration made easy!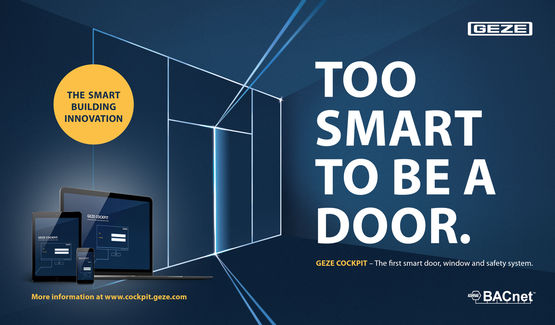 The first building automation system for smart door, window and safety technology. © GEZE GmbH
GEZE's unique networking of door and window technology, using smart software and open interfaces, is closing a gap, and opening up new opportunities in building automation. The intelligent interaction between automatic doors and windows, in combination with safety technology integrated into the various different product groups within a building, will show visitors what makes a building truly smart: when it'is fully networked and secure, and can be operated in an energy-saving and efficient way.
SECURE! special show Connected Security in Buildings special show
As a key element of the SECURE! connected security in Buildings special show, GEZE will demonstrate its power of integration and system expertise. GEZE will demonstrate how flexibly doors and windows networked in GEZE Cockpit can be integrated into the building automation system across disciplines by showcasing two concrete examples. In the 'Office' and 'Industry' special show areas, visitors can see live demonstrations of the interoperability of GEZE products with other product groups and technologies. They can follow 'fire', 'break-in', 'storm' and 'access control' scenarios as complete chains of events: from the detection of smoke, the triggering of a burglar alarm or the start of a storm through to the all-clear, or from reporting an individual at an access-controlled door to the person leaving the building.
Automatic, multi-functional sliding and swing door systems
The GEZE 'team players' are automatic multifunctional sliding and swing door systems as emergency exits (each combined with fire protection or RWA air intake function) with drives from the Slimdrive and Powerturn series, and comprehensive safety technology. There are also access-controlled all-glass office partition walls and complete RWA systems with the 'intelligent' window drives from the IQ windowdrive series, and an RWA control unit. IO 420 BACnet interface modules ensure networking with GEZE Cockpit and integration in the building management system.
The door and window systems are connected via GEZE Cockpit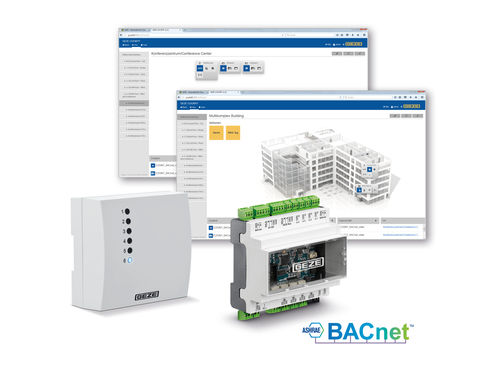 The door and window systems are connected via GEZE Cockpit. Photo: GEZE GmbH
Visitors to the exhibition stand will also be impressed by how easily and conveniently the door and window systems networked in GEZE Cockpit, and on display in the special show areas, can be visualised, monitored and controlled remotely from a central point. In addition to integration in the building management system, GEZE Cockpit can also be used as an independent system.