New GEZE ActiveStop door damper: Door comfort - and a eureka moment
The 'BEHANDELBAR 3.0' physiotherapy practice in Sindelfingen near Stuttgart is capitalising on the new GEZE ActiveStop door damper. The intelligent system ensures controlled, buffered opening and closing of internal swing doors. GEZE ActiveStop thus makes it easier and more comfortable to enter a room than ever before.
Draw-in damping for more convenience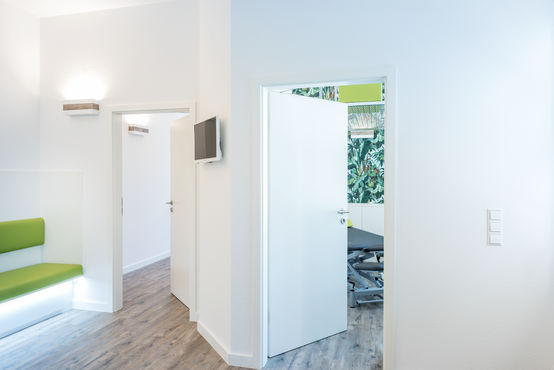 Whether for drawers, sliding doors and now interior doors too: draw-in dampings simplify daily life in many areas and continuously convey a feeling of comfort and high-quality. Walls and objects around the door are protected as well as the leaf material. All these aspects quickly came to be appreciated in the new practice.
At the beginning of April 2016, Jule Kain, manager of 'BEHANDELBAR 3.0' in Sindelfingen near Stuttgart opened a branch of her practice specialising among other things in pelvic floor and sports physiotherapy. Sometimes patients are surprised by the fact that the doors to the treatment rooms close almost noiselessly and remain securely shut without a lock latch.
"Patients are always surprised when they are first see the GEZE ActiveStop in action," explains Jule Kain, the manager of the physiotherapy practice. On the recommendation of her interior fitter, Jule Kain has chosen to install the new GEZE ActiveStop door dampers on the doors of the four treatment rooms.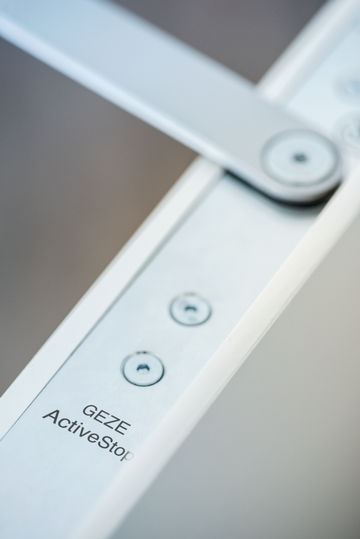 Accessibile, hygienic and aesthetic
As in any practice, hygiene is crucial 'BEHANDELBAR 3.0' practice. "We sometimes work with massage oil. In the past, we occasionally needed to go through the awkward process of pressing the door handle with our elbows," says Jule Kain.
Not with the GEZE ActiveStop door damper! At only 28 millimetres wide, it is almost invisible and can be quickly and easily integrated into the door leaf with just a few milling steps. It doesn't matter whether you give the door a small or a hearty push – the system opens the door safely and independently, right up to the stopping position which can be individually adjusted to anywhere between 60 to 140 degrees. "Of course, that's a big advantage if you don't have your hands free," says Jule Kain.
As an added bonus, the door will not leave any unsightly marks or damage on walls or furniture as the door damper stops the door in time and holds it open securely, in the desired position. Separate door stoppers are no longer necessary. An aspect that Jule Kain is particularly pleased about: "We can happily do away with ugly endstops," says the manager, grinning. "And we can say goodbye to the door banging noisily, when there's a draught for example!"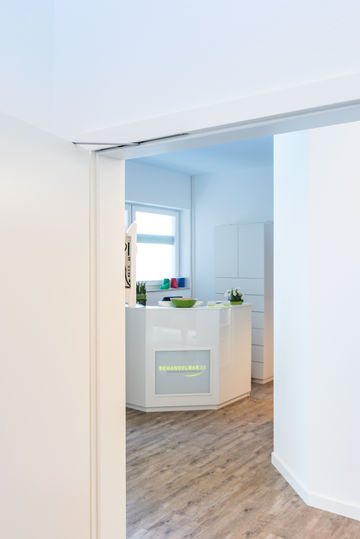 Hold open with ease and close silently
Thanks to active damping, any door fitted with GEZE ActiveStop closes slowly and quietly from about 25 degrees, prevents not only noisy slamming, but annoyingdamages to the door and injuries too. The GEZE solution also holds the door securely closed so you can do away with lock latches entirely. An aspect which, according to Jule Kain, always triggers a eureka momentamong patients. Doors run freely at between 25 and 60 degrees. The door damper reliably catches them from 25 or from 60 degrees.
Jule Kain and her team have become so accustomed to the advantages of the GEZE ActiveStop that they can no longer imagine their working day without it. "I wish I could fit it all my doors right now!" says the physiotherapist.
Innovative double award-winning design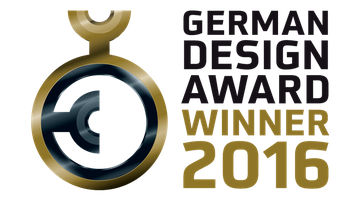 German Design Award 2016
GEZE ActiveStop has received two awards for outstanding design. The door damper won the German Design Award 2016. The international prize is awarded by the German Design Council, the brand and design body and organiser of one of the world's best-recognised design competitions.

Focus Open 2015
GEZE ActiveStop also achieved Silver in the Focus Open 2015 international design award. The Baden-Württemberg Design Centre judging panel recognised the product as an innovative solution with exceptional design quality, and awarded it the first prize in the 'Living' category.