Commercial launch of the building automation system GEZE Cockpit
GEZE Cockpit is now available! The new BACnet building automation system makes buildings truly 'smart": doors and windows can now be automated, and integrated in a building system.
Networked and 'intelligent' doors and windows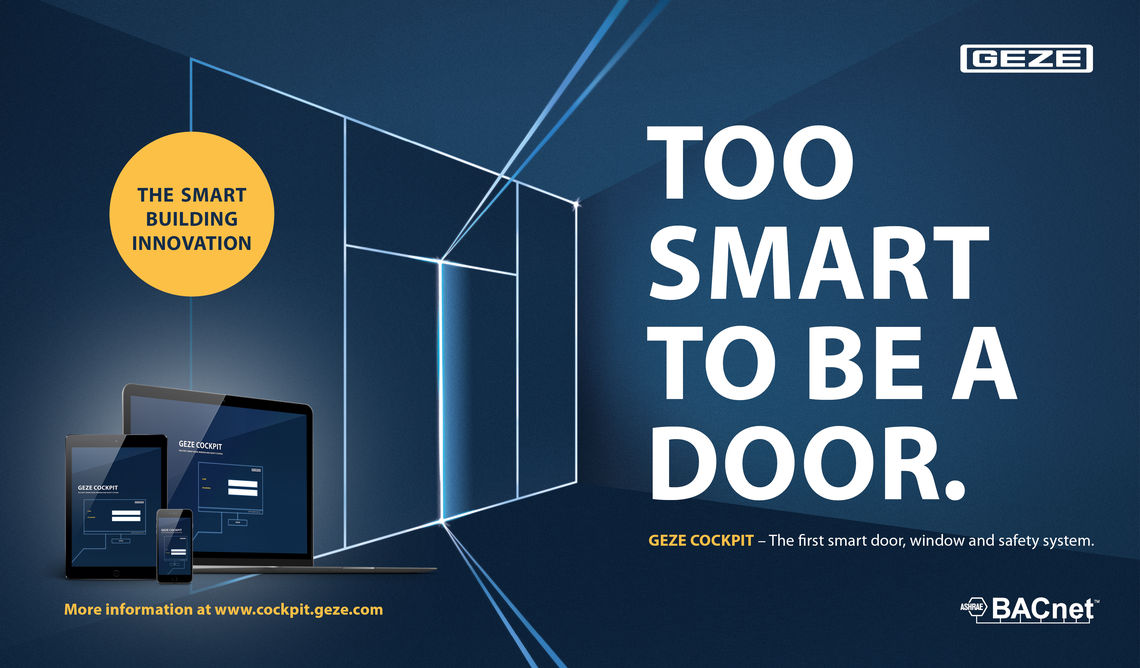 GEZE is expanding the traditional building automation system product groups, such as heating, air-conditioning, lighting and shading, with innovative new solutions. Thanks to interdisciplinary networking in Smart Buildings, GEZE Cockpit offers new options for secure, convenient, and energy-saving building operation. The system's unique benefits are the visualisation, monitoring and operation of automated GEZE products for door, window and safety technology, and of all integrated products. It can be used as an independent building automation system, or integrated into a higher-ranking building management system.<br/> <br/> GEZE Cockpit for the first time enables the full intelligence of GEZE products – meaning all available control options and status information – to be integrated in the building network. Doors and windows can be operated 'intelligently', because data from other participants and sub-systems can also be used. One example of this is setting a door's opening width, or a window's opening and closing according to the outside temperature, in interaction with temperature sensors and heating systems.
Door and window scenarios – automatically the right response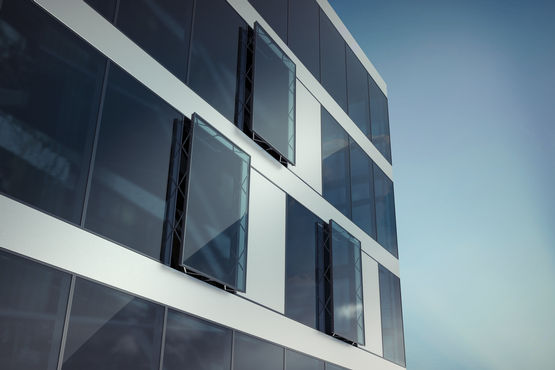 Doors and windows are opened automatically, triggered either by a time or by an event
Individual scenarios can be saved in GEZE Cockpit, so that doors and windows open and close automatically controlled either by time or triggered by an event, or doors can be locked. The system is particularly recommended for functional buildings, where the demands in terms of operating and protecting automatic doors or windows vary depending on the time of day. In office buildings, hospitals or shopping centres, for example, multifunctional doors are used in various operating modes throughout the day ('hold open', 'automatic', 'exit only'). At night, they serve as secure escape and rescue route doors.
Networking with GEZE Cockpit also allows doors to be monitored and operated, the operating mode to be changed, or time-controlled functions to be managed remotely. Time-consuming checks by staff are eliminated because the status of the individual products is fed back. Undesirable door behaviour and alarm or fault reports can be localised quickly and easily so that counter-measures can be implemented immediately. In the event of danger or a fire, escape doors are released automatically.
Ventilation scenarios ensure intelligent interaction between the product groups, creating an optimal indoor climate. Integrated in GEZE Cockpit, the façade technology responds to changing climatic conditions. Windows close according to the external temperature, rain and wind, or open depending on the ambient room temperature and air quality. Shading is activated in response to solar radiation. Time-controlled ventilation scenarios in office buildings, for example, enable natural energy-saving night-time back cooling, or individual rooms to be ventilated for meetings.
Operation via PC, tablet or smartphone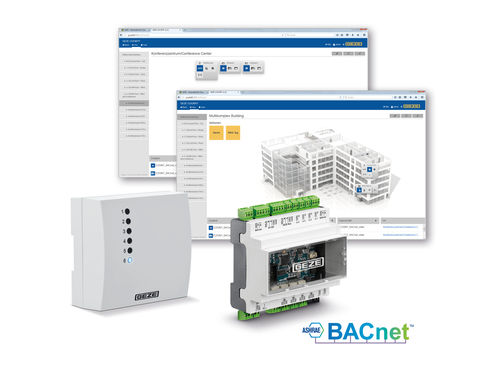 Safe and easy to use building automation: the new GEZE Cockpit.
The control unit forms the logical hub of GEZE building networking. Various browser-based software applications can be installed on this BACnet building controller. Any IP-enabled device – be it a PC, tablet or smartphone – can access and act on information from the system. Data is exchanged between GEZE Cockpit and the integrated doors and windows via the BACnet communication standard. The system offers MS/TP interfaces for this, which receive and return signals from the doors and windows. The BACnet IO 420 interface module ensures the door and window system components are BUS-enabled.
The right software package for every building demand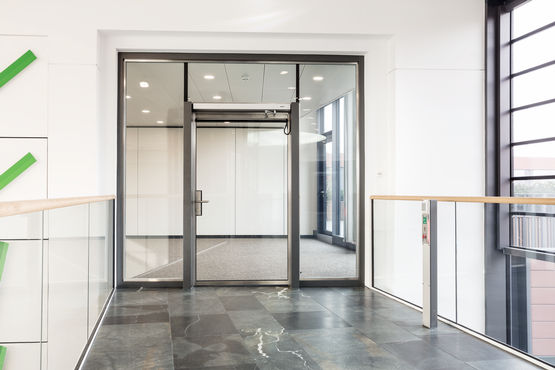 Connect your GEZE products to each other! Photo: Jürgen Pollak for GEZE GmbH © Jürgen Pollak / GEZE GmbH
GEZE Cockpit allows up to 62 GEZE products to be networked – including swing and sliding door systems, emergency exit protection systems, hold-open systems, windows and window groups, electric strikes and motor locks. The GEZE Cockpit BASIC configuration software is pre-installed for integrating the system into a higher-ranking building management system. This basic package is sufficient to confirm and display all connected doors and windows at their precise location in the building.

With the GEZE Cockpit VISU and GEZE Cockpit VISU+ software packages, GEZE Cockpit can be used as a stand-alone building automation system. In addition, with the VISU package, the current situation and functionality of the doors or windows can be recorded on a graphic interface at a glance, so that the conditions can be changed at the touch of a button. Creating scenarios enables several products to be operated simultaneously – also at the touch of a button or time-controlled. The VISU+ package additionally allows users to configure individual monitoring functions and alarms, which they are notified about by email. This is a major advantage in a department store, for example, if an escape door emergency push button is activated, or if a door is not locked after the store has closed. Building managers can then respond immediately from anywhere.
GEZE Cockpit is the future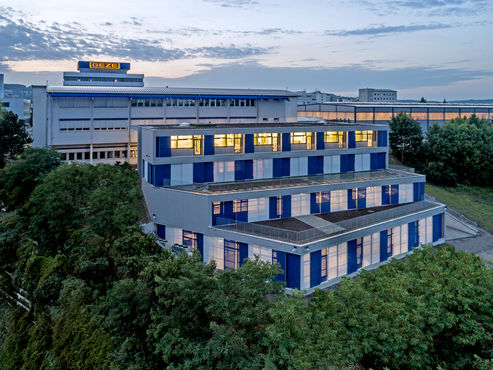 Equipped with the new GEZE Cockpit building automation system.
There are still countless possibilities for GEZE Cockpit. New networking applications to achieve maximum gains in comfort, security and energy savings are constantly being tested under real conditions in the state-of-the-art, and needless to say smart, GEZE development centre. The insights gained are used to continually develop the intelligence of all GEZE products, and expand and roll-out the benefits for users with the aid of GEZE Cockpit.
Further detailed information is available on the GEZE Cockpit microsite